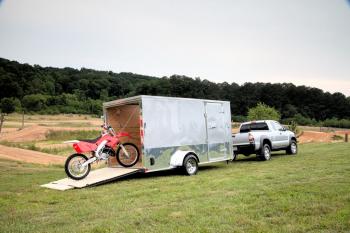 The first step in selecting a trailer is deciding what style and size of trailer you need. The next step is figuring out whether you will need a open trailer (utility trailer) or a enclosed trailer (cargo trailer), Dump Trailer or Equipment Trailer. All trailers are available for sale in our  Saugus, MA, Norwood, MA, Wetborough, MA, North Hampton, NH, Salem, NH and Gaithersburg, MD store locations. 
Open trailers, also known as Utility trailers, are trailers that expose the cargo to the outside elements. Open utility trailers are well suited for many people, including landscapers, who need a way to haul landscape equipment. While utility trailers are economical and useful, they do not provide the protection from the outside environment that a cargo trailer will. Are Utlity Trailers are from Carry-On, Load Trail, and Fox Trail.  
Our Dump trailers from Sure-Trac, Carry-on and our Galvanized Dump Trailers from K-Trail Trailers range in sized from 5x10-7x16 and different weight ratings and options to fit your hauling needs. 
Enclosed trailers, also known as Cargo trailers, offer added security because the trailer functions as a portable, lockable storage building, while keeping your cargo safe and out of the elements. We are proud to offer Car Mate Cargo Trailers, Carry-on Cargo Trailers, and DuraBull Cargo Trailers.  Available in a wide range of sizes and models to fit your needs!
Not available in our Florida Locations