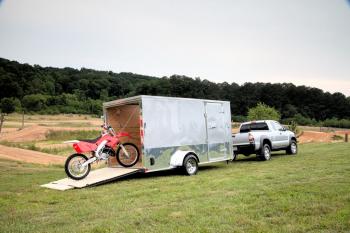 The first step in selecting a trailer is deciding what style and size of trailer you need. The next step is figuring out whether you will need a open trailer (utility trailer) or a enclosed trailer (cargo trailer).
Open trailers, also known as Utility trailers, are trailers that expose the cargo to the outside elements. Open utility trailers are well suited for many people, including landscapers, who need a way to haul landscape equipment. While utility trailers are economical and useful, they do not provide the protection from the outside environment that a cargo trailer will.
Enclosed trailers, also known as Cargo trailers, offer added security because the trailer functions as a portable, lockable storage building, while keeping your cargo safe and out of the elements.
Not available in our Florida Locations